Birmingham Law Courts
The Birmingham Law Courts, at the end of Corporation Street, are within easy walking distance of the city centre. They must be counted among the most outstanding buildings in terra cotta in the country.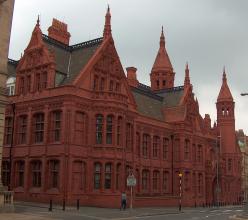 The Law Courts
The Law Courts are the work of the architectural partnership of Aston Webb and Ingress Bell, with the principal sculptural figures in terra cotta by Harry Bates, and other detail mainly by W. Aumonier (and apparently some by W. S. Frith). The buildings were put up from 1887-1891, and the date 1887 is by the Magistrates Court entrance.
The Magistrates court central doorway is flanked by two excellent Gothic towers, a left and right wing, then an extra range on the left side; around the corner in Newton Street the building is plainer. The back is much more modest, with above the bay the motto 'Justice Giveth Everyone His Own'.

Principal figure of Queen Victoria, above St George, by Harry Bates.
Now to the sculpture. Above the main entrance is a seated Queen Victoria, with under her throne in the keystone position a small St George and Dragon. To below left and right of the Queen are spandrel figures, a girl making an offering, and one grinding (why?). Directly left and right are more figures, nicely draped. Note the polar bear on the left. Right is a barbarian girl, semi-draped with snake. What do they symbolise - good and evil? Ignorance and truth? The Victoria figure, and I think all of these attendants, are by Harry Bates, a sculptor who deserves to be better remembered, and whose best-known work is a beautiful Pandora in the Tate Gallery.
High above on the summit, a more obvious motif - blind Justice (eyes covered) with sword and scales of justice. The excellent towers have more, smaller figures, and all over the frontage are lots of scale motifs and other décor. Each of the adjacent wings has the motto 'Forward' with a figure above and two lesser figures below left and right. On the right hand wing are 'Manufactures': an engineer with machinery, and below, lady potter (left) and gunmaker (right). The left hand wing has 'Arts': a woman with easel, pillar for architecture, and palette. Below, man with vase (electrotyping?) and another with book (literature). The extra wing to the left emphasises its lesser stature with simpler motifs, replacing the central figure with a shield, and with a merchant and sailor perhaps below.
We end by noting that Webb and Bell's design was protested against by the stonemasons of Birmingham, on the grounds that 'terra-cotta is not so durable as stone, and that if the former is employed £20,000 will be spent outside the town.'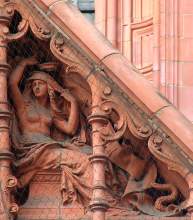 Figure of Cleopatra.
Walk near Birmingham Art Gallery // Sculpture pages // Sculpture in England
Visits to this page from 23 Nov 2011: 4,521