Giuseppe Mazzini relief portraits, Laystall Street and Hatton Garden, London
Giuseppe Mazzini, Laystall Street, 1922.
In Laystall Street, London, at no. 10, is a plaque to Giuseppe Mazzini (1805-1872), 'Dio Popolo Pensiero, the apostle of modern democracy inspired young Italy with the ideal of the independence, unity and regeneration of his country', dated 1922, which we may assume is the date the plaque was put up. The low relief bronze portrait of Mazzini shows him in middle age, with beard and moustache, with a fine, high and rounded forehead encircled by wisps of hair. His expression is thoughtful and somewhat sad. He wears a tight necked shirt under a wide collar. Under the bust and around its lower portion are two sprigs of olive, tied together, and beneath this device is a pair of hands shaking one another. The plaque seems to have no signature, at least I saw none, but we may guess that it represents the work of an Italian sculptor.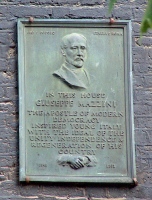 Hatton Garden plaque to Mazzini.
A second plaque to Mazzini, with the same inscription and a similar portrait in relief and the hands, but not the olive branches, is in Hatton Garden by the corner with Holborn Viaduct. It seems to be a copy of the Laystall Street sculpture, and is less well delineated.
Mazzini lived in London in the 1840s, and at 10 Laystall Street from 1877; the group he founded with Garibaldi in 1840, the Mazzini and Garibaldi Workmen's Society, met at this house for a period. The house lies in a district off Clerkenwell Road and Farringdon Road once called 'Little Italy' for its concentration of Italians, and the site of St Peter's Italian Church, Clerkenwell Road, apparently similar to the Basilica of San Crisogono in Trastevere, Rome. That church, completed in 1863, has an external mosaic, relatively unusual in Britain, pictured on the Introduction to London Mosaics page on this site, and a lavish interior.
British sculpture owes an enormous debt to Italy, with so many Classical sculptors spending time or settling there, but outdoor Italian sculpture from the 19th Century is unusual in London. There is a little 19th Century statue of Milo of Croton, perhaps Italian but unsigned, in Holland Park. The Italian Water Garden in Kensington Gardens is inspired by Italian models but the sculpture itself is British. There are 19th sculptors in Britain of Italian descent of course, such as Rafaelle Monti and Giovanni Fontana, though I do not think there is any of their work out of doors in London. We can do better with J. C. F. Rossi, with his St Pancras Church caryatids, and Carlo Marochetti, with his monuments to Richard I by the Houses of Parliament, Brunel on the Victoria Embankment, Robert Stephenson at Euston Station, and Lord Clyde at Waterloo Place. Perhaps the most notable collection of Italian 19th Century outdoor sculpture in London, though, is the ensemble of nudes in Twickenham, in York House Gardens – see this page.
A few minutes stroll to the north lies the former graveyard of St Andrew's Holborn, St Andrew's Gardens.