John Warrington Wood (1839-1886)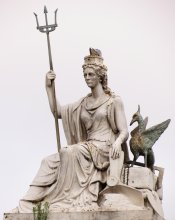 Summit figure of Walker Art Gallery, Liverpool.
John Warrington Wood was a sculptor specialising in religious groups and portrait busts. He also produced a variety of white marble girls, and overall, his work is perhaps a little sweet for modern taste.
Warrington Wood trained as an artisan, and was noticed as a potential sculptor by chance when he produced a design in stone for a bank in Warrington (England), his home town, after the workman responsible failed to appear. He enrolled at the School of Art in Warrington and achieved early success with his work Spring in 1862. His style became fully developed in Italy, where he established himself not long afterwards, before he reached the age of 30. He visited England regularly thereafter, but Italy was his home for most of the rest of his life. He did however send many works back to England, exhibiting at the Royal Academy through until 1884, about 25 works in all. In 1871 he exhibited an Eve in South Kensington, which was unsold. However, a group of citizens of his home town of Warrington were impressed and proud enough to commission him to produce works to the value of £1000. The chief outcome of this was his statue St Michael Overcoming Satan (1874/7), made from a huge block of marble known as the 'Pearl of Carrara', which required great effort to transport back to Warrington from Rome.
Warrington Wood's statues of Raphael and Michaelangelo in Liverpool.
Warrington Wood enjoyed great public recognition, with perhaps his best-known works being the statues of Raphael and Michaelangelo placed at the entrance to the Walker Art Gallery, Liverpool. He was popular in Italy also, and was made a member of the Guild of St Luke, though he was too detached from England to become a member of the Royal Academy. His success lead him to purchase a huge villa in Rome, the Villa Campana, which he was able to buy after the Marchese Giovanni Pietro Campana, a wealthy art collector, had lost all his money on an ill-fated venture to produce fake marble. A visit to Warrington Wood there became a natural part of a visit to Rome, and notably Luke Fildes and Alma Tadema were among his companions.
Various of Warrington Wood's works, most especially the huge St Michael Overcoming Saturn - in which St Michael seems curiously effete compared to the contorted classical figure of Saturn - are at the museum and art gallery in Warrington. Two further statues, nice ideal girls depicting Jephthah's daughter and Rachel are in Bath, and portrait sculpture may be seen at Manchester Town Hall, and alongside the figures already noted in Liverpool, We should also note the allegorical figure of Liverpool - a girl with sphinx - on the summit of the Walker Art Gallery.
Warrington Wood's portrait sculpture seems a little cool, remote from the viewer, and his ideal feminine figures too have distant expressionless faces, very classical, and long, slender necks.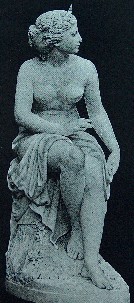 Diana, an ideal figure by Warrington Wood.