Joseph Thewlis of Leeds (1862-1921)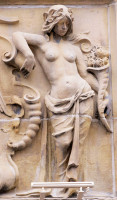 Joseph Thewlis was a Leeds modeller and carver whose architectural sculpture may be seen in his home city.
The sculptor, Joseph Thewlis is a somewhat obscure figure, and I do not have a good contemporary source for him. However, the online source 'Mapping the Practice and Profession of Sculpture in Britain and Ireland 1851-1951, University of Glasgow History of Art and HATII' has put together a short biography based on census records and exhibition guides. Their information is that he was a Leeds man, one of three sons of James Thewlis, an engine stoker, and variously described as carver and sculptor and stone mason. He was born in 1862, was active from 1881-1911, trading under the company name Thewlis and Co. from about 1900. He died in 1921. Thewlis signs several pieces of architectural sculpture in the city, including two works in Park Row, no. 18, built for the West Riding Union Bank circa 1900, and no. 26, which is the Scottish Union Building (1909) - see this page. The earlier building includes a frieze with a variety of mostly male figures in high relief and a central seated figure of Commerce. The later one includes four full figures, three female, one male, plus crouching caryatids, so between the two we have something of a sense of his figure sculpture. His other main work is for the many spandrels for Leeds City Markets, including a variety of grotesques, male and female, and little ornamental dragons or griffins in a Celtic spirit.
Outside of Leeds, Thewlis designed at least two war memorials, for Marsden (West Yorkshire) and Brigg (North Lincolnshire), each designed with a square pillar bearing a flaming urn, and a pair of lions below to the sides.
From the limited work by Thewlis I have seen, he had a keen sense of the decorative and ornamental, and produced work of lightness and elegance, designed to be seen en masse rather than intended for close scrutiny, being somewhat sketchy in style, simple of finish and drapery. His female figures, generally semidraped, are wide in the hips, round breasted in the style of the time, rather muscular of arm and neck, sometimes long in the arm, and short in the leg. Their faces are reasonable but not as good as his figures or poses, and indeed the hands, which are of great merit. He tends to favour short hair in the arts and crafts style, but particularly his City Markets figures include long-haired girls too. The male figures in the panels of no. 18 Park Row are nice in the group, but individually rather prosaic, and his male musculature, where visible, is variable in quality – we see here the work of a potter rather than a sculptor. This should not detract from our appreciation of his abilities as a designer and modeller, which are considerable, and I would be interested in learning more of this artist.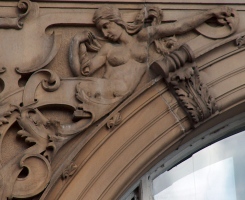 Grotesque figure for Leeds City Markets.