John Macallan Swan RA (1847-1910)

J. M. Swan.
Mr J. M. Swan ... takes his place beside the poet who would rather write a sonnet that is a highly polished gem than an epic of which he could not elaborate and refine its every image and its every word... They are small for the most part, his studies of animal life, and generally speaking, they deal with the felidae, although... Mr Swan has also reproduced the human figure; but it is ... difficult to imagine him modelling a monumental statue of a popular Member of Parliament...
The animal painter and sculptor John Macallan Swan was born in Old Brentford and studied at the Worcester School of Art, at the Lambeth School of Art under W. S. Frith, and like many others, then went on to the Royal Academy Schools, in 1872. Two years later he went to Paris, where he spent 4-5 years under Gerome, then under the animal sculptor Fremiet, and the painters Bastien-Lepage, Henecker and Dagnan-Bouveret, all this making him 'perhaps as French as an Englishman could well be'. He then settled in London,convenient for studying animals and animal anatomy at London Zoo. It was not until 1878 that he sent his first work to the Royal Academy (Dante and the Leopard), and his reputation was on the Continent only, until 1889. In that year, his picture at the Academy, The Prodigal Son, was bought under the terms of the Chantrey Bequest. He was elected ARA in 1894, had an exhibition at the Fine Art Society in 1897, and became RA in 1905.
Swan became known for his animal studies, especially lions and jaguars, executed as bronzes, oil paintings, watercolours or in black and white. As noted by a contemporary critic, 'his work falls into two distinct classes - one treating animals as they exist in nature, the other as they exist in the world of fancy. As an animal painter Mr Swan is alone at the present time in the English School.' There was in fact one other artist, almost exactly contemporary, specialising in the big cats, in painting and sculpture - J. T. Nettleship.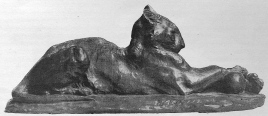 Panther and Ball, by J.M. Swan.
Swan's naturalistic treatment of animals was likened to that by James Ward in his cattle pictures, there being no attempt to look for human characteristics, as, say, Landseer had done some years earlier. As a sculptor, Swan falls under the banner of the New Sculpture movement.
Swan did not confine himself entirely to animals. He also painted landscapes, and his sculptural work includes a number of ideal nudes. An Orpheus is in the collection of the Manchester art gallery, which also has some of his animal sculptures. There are more in the Tate Gallery, but rarely on show. Happily, on permanent display, loaned from the Tate, is an outdoor statue, Boy with two Bear Cubs in Holland Park adjacent to the remains of Holland House, which gives a tolerable example of his style of sculpture.