Frederick E. E. Schenck (1849-1908)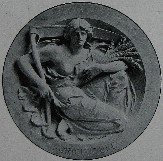 Agriculture roundel.
The sculptor Frederick Schenck trained at Edinburgh School of Art, and then Hanley School of Art. He showed work at the Arts and Crafts Exhibition Society, and designed for several pottery works, including Wedgwood. However, by far his most important efforts were in architectural sculpture, where he developed an organic, Art Nouveau style. In London, he made the friezes and architectural figures for 37 Harley Street (close to Cavendish Square in London), Ingram House on the Strand (now demolished), and the public libraries at Islington, Hammersmith and Shoreditch. He was also responsible for sculptural panels for Staffordshire County Council Chambers in Stafford, Oxford Town Hall, and the Municipal Buildings in Crewe.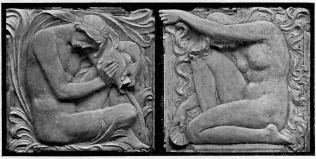 Sculptural panel by Schenck for Shoreditch Public Baths.
From what I have seen of his work, Schenck much preferred the female figure, very classical in style, combining a smooth, ideal treatment of the figure and any allegorical accoutrements with a characteristically detailed and close-hugging drapery to emphasise the full forms beneath. Excellent work, and what a shame there is so little of it to see.
Much more detailed information on Frederick Schenck may be found here.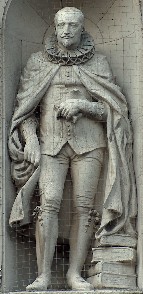 Spenser, from Islington Library.,
Visits to this page from 23 Nov 2011: 4,480