Paul Raphael Montford (1868-1938)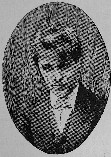 PR Montford's work is perhaps most familiar to Londoners in the two surviving statues (Beit, Wernher) on Imperial College, by the old School of Mines entrance at the top end of Exhibition Rd (see pictures at bottom of this page). Montford was the son of Horace Montford, one time curator of the Royal Academy School of Sculpture, and made an early start to his career, studying at South Kensington, then at Lambeth under Sparkes, and then entering the Royal Academy Schools while still in his late teens. He won several prizes there and elsewhere in the late 1880s and early 1890s, but seems not to have capitalised on this early success and did not become one of the better known sculptors. He became modelling master at the Chelsea Polytechnic in 1898, and in about 1922 he left for Australia, where he had some considerable success with monuments in Melbourne (here is an article on Montford in Australia, kindly contributed by Donald Richardson).
Details from Imperial College work by Montford.
Montford's oeuvre includes portrait statues and busts, allegorical figures, and studies of contemporary life, usually female. In London, as well as the Imperial college statues, may be seen his panel on the King Charles Street bridge along Whitehall (a fussy scene perhaps representing trade by sea), allegorical figures and lunettes for Battersea Town Hall (with Horace Montford), and The Arts for the bit of City University on St Johns Street. Outside London, we may mention the Croydon war memorial - bronze figures of a grieving woman with child, and a wounded soldier, both rendered with much feeling, the large, complex groups for Cardiff City Hall and law courts in Cathays Park (one pictured on this page), and the Kelvin Way bridge, Kelvingrove Park, Glasgow. Abroad, as noted, Montford has several public works in Melbourne, Australia.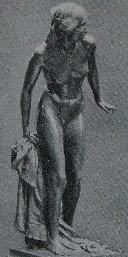 Startled.
Montford's style in allegorial sculpture has pleasant-faced girls, almost smiling, with well poised necks and often rather solid figures. His male subjects are purposeful-looking and athletic, and as touched on above, he tends to complex, ambitious groups with lots of supplementary details.

Typical allegorical figure by Montford, called Commerce.