Thomas Milnes (c.1810-1888)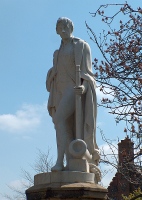 Nelson statue, Norwich, by Thomas Milnes.
The sculptor Thomas Milnes was born in Tickhill, Yorkshire. He seems to have settled in London by 1836, when he was married in St Marylebone Church, studied at the Royal Academy Schools from 1841, and exhibited at the RA from 1842 through to the mid-1860s. He exhibited at Westminster Hall in 1843, and also had a design for a memorial at the Great Exhibition, and a Samson slaying the Lion at the 1862 Exhibition. His works include a Nelson in Norwich, now by the Cathedral (rather poor picture above), a Wellington in the Royal Arsenal, Woolwich, Dr Charlesworth for Lincoln, and a bust of Titus Salt for his memorial in the church in his town of Saltaire. Also in Saltaire are four lions by Milnes, originally made for Trafalgar Square but considered unsuitable. His other work seems to have been mainly animal sculpture and work as a monumental mason (there seems to have been several Milnes who were stonemasons in Yorkshire), and an example of both - a monument with a horse - may be seen in Kensal Green Cemetery. He is himself buried in Kensal Green (with thanks to Chris Bell for this information, and on Milnes' dates).
Monument to Aldred Cooke, Kensal Green.