L. Edith C. Maryon ARCA (1872-1924)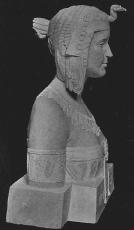 A Priestess of Isis.
Edith Maryon was a sculptor of children and female figures, active from around 1900.
The sculptor L. Edith C. Maryon (she did not go by her first name, Louisa), better known to some as a disciple of Rudolph Steiner, lived in London, studying at the Central School of Arts and Crafts, and then at the RCA. She exhibited at the Royal Academy from 1900, with her studio address varying between a variety of London locations, including her home in Chiswick. She continued to exhibit in London through till the early 1910s, and then, under Steinerís influence, settled in Switzerland. She apparently died young, of TB, in 1924.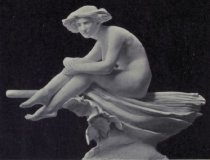 A Priestess of Isis.
Maryonís sculpture consists mostly of girls or children, seated or crouching or otherwise curled up, single or in groups of two, sweet and plump-cheeked and a bit coy. Other work includes some female nudes, nicely posed, a characteristic of her work in general, but again, tending to the overly sweet. We should note however a few Egyptian-themed figures, including The Priest, a severe seated figure with headdress, and a bust, A Priestess of Isis, wearing the vulture headdress which inspired more than one 19th and early 20th century artist.