Manderson of Dublin (active 1839-1866)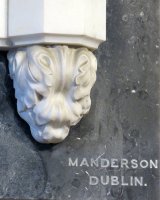 Manderson, Dublin is a signature found on various Victorian monumental panels; this father and son partnership was mostly known as a supplier of marble.
The statuaries William Manderson (1781-1854) and his son, Willam Richard Manderson (1805-1876) apparently produced nearly 200 monuments, though I would think these would mostly have been churchyard gravestones rather than monuments inside the churches. Nevertheless, there are some number of the latter scattered across Ireland, dating from the 1850s and 1860s. They worked in the white-on-black genre popularised from the end of the 18th Century, producing decent panels with minor sculpture: the odd draped casket or small figure, coats of arms and the like. Their works were primarily Classical, but they were mid-Victorian after all, and I am aware of one Gothic piece by the firm, across the water in the little church of Hartley Wintney in Hampshire.
Their workshop from at least 1847 was at 172 and 174 Great Brunswick Street, Dublin [later Pearse Street] – much of that street survives intact, including an architectural sculptor (there were several workers in marble on the street), but nos.172 and 174 were among those obliterated for a modern building. The main business of the firm however, from its inception in 1839, was as a supplier of marble, from the Killaloe Marble Works, for grand buildings such as the Museum building for Trinity College, Dublin. They also made domestic marble pieces: 'chimney-pieces, table tops, fonts' etc', using Irish and foreign marbles, and 'statuary, elaborately sculptured and carved', though I have not seen examples of the latter: ecclesiastical pieces suggested as such – the altar pieces of Wexford Franciscan Church and St Andrew's Church, Dublin, are impressive for their volume of marble rather than elaborateness of carving. Although the Killaloe Marble Works site was reduced over time, as late as 1862, street directories for Dublin list the Brunswick workshop in connection with 'statuary, marble works and chimney-pieces'. The younger Manderson continued until 1866, when the Great Brunswick Street workshop passed to the erstwhile foreman of the business.