Sir Edgar Bertram Mackennal RA (1863-1931)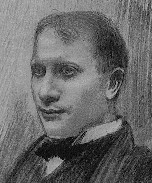 Bertram Mackennal.
The sculptor Bertram Mackennal was born in Melbourne, Australia. He learned art from his father, a sculptor originally from Scotland, then at the Melbourne National Gallery School (where Rupert Bunny was a fellow student), and came to England to study the antique at the British Museum in 1883. The following year he entered the Royal Academy Schools, but the teaching did not prove agreeable to him, and he soon left, to go to Paris. There, still aged only 19, he set up his own studio, while continuing his studies with visits to the workshops of a variety of eminent sculptors.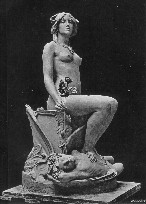 For She Sitteth... in the High Places of the City.
Back in England Mackennal became head of the art department of the Coalport Potteries in Shropshire. However, in 1887 he won a competition to provide relief carvings for the Victoria State houses of Parliament, and he spent two years back in Australia working on this commission. After rather mixed success, he achieved fame with his statue Circe in 1893. By this time he was back in London, and it was there that he settled, becoming one of the more important sculptors of his time, with prolific commissions in London and elsewhere, and a variety back home in Australia.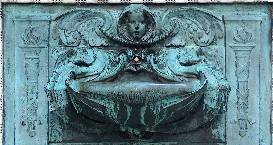 A bronze plaque showing Mackennal's art nouveau style.
The illustration shows a typical work by Mackennal. He specialised in rather ideal figures, often female nudes, with art nouveau-style faces, and often on complex plinths with symbolic decor - we may mention For She Sitteth on a Seat In the High Places in the City, Oceana, The Earth and the Elements (purchased by the Chantrey Bequest), Diana and The Dancer. As well, he made various portrait sculptures.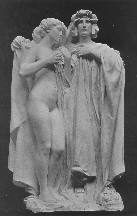 Tragedy enveloping Comedy.

An example of Mackennal's more formal portrait statues is the Edward VII in Waterloo Place, London (several pictures of this are on this page). An excellent Boer War Memorial is in Islington. He also made the sculptural group Phoebus driving the Horses of the Sun high up on Australia House in the Strand, St Paul on a tall pillar by the Cathedral, and the pediment of the Treasury building towards Whitehall. Outside London we may mention Gainsborough at Sudbury, Suffolk, the Blackburn War Memorial, a version of Circe in Cardiff, the Medvers Buller Memorial in Winchester Cathedral, and the Curzon Memorial in Kedleston, Derbyshire.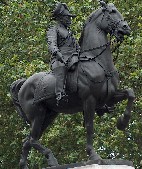 Edward VII, Waterloo Place.

Here is a detailed account of Mackennal's war sculptures in Australia.

Redvers Buller, Winchester.

Visitors to this page since 22 Nov 2011: 7,738