John Graham Lough (1789-1876)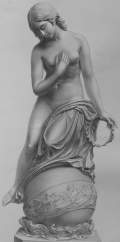 Ideal figure by J. G. Lough.
The sculptor John Graham Lough is chiefly known for his funerary monuments, but also produced a variety of portrait sculpture, and ideal male and female figures in classical style.
He was born near Hexham, Northumberland, and according to Redgrave, may have worked as a farmer in his youth. However, after an apprenticeship with a stone mason, and a period at Newcastle, he came to London to study the Elgin Marbles at the British Museum. He began exhibiting sculptures of ideal figures and heads at the Royal Academy from 1826. Later, from 1834-38, he spent a period in Rome.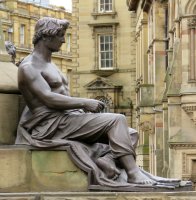 Heroic male figure from the Stephenson Monument.
Among Lough's public works are a statue of Lord Collingwood in Tynemouth, and the important Stephenson Memorial in Newcastle with four allegorical figures surrounding the central portrait statue. In London, he produced the monuments to Henry Montgomery Lawrence and to Bishop Middleton in St Paul's Cathedral, and made the Queen Victoria and Prince Albert for the Royal Exchange. In Canterbury Cathedral, he was responsible for the monuments to Bishop Broughton, and to Lt Col Frederick Mackeson. In Blagdon, North Somerset, is his colossal statue of Milon, the statue which first brought him success as a sculptor. There is work of his abroad, too, for example his monument to William Hay Macnaghten in St Paul's Cathedral Calcutta. Lough's style was classical, and many of his works show a certain softness of treatment which worked well for funerary monuments, but today feels a little overly-sentimental for free standing ideal sculpture. Having said this, his muscular ideal male figures show a suitable sternness and solidity.
He died in his late 80s, and is buried in Kensal Green cemetery, London, where may be found also his excellent monument to Georgiana Cleminson.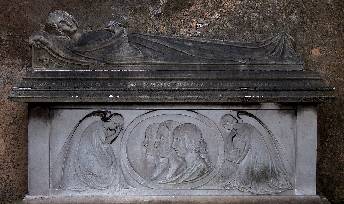 Georgiana Cleminson monument, Kensal Green.