Hubert le Sueur (c.1585 or earlier – at least 1658)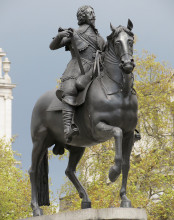 To think of the sculptor Hubert le Sueur (older texts spell his name 'le Soeur') is to think of his equestrian statue of King Charles I in Trafalgar Square, looking down Whitehall towards Parliament. This is the image of Charles I, with the little beard, the calm, enigmatic face, the stiff upright posture. Even to the most casual viewer it is immediately different from the other statuary in the Square, obviously much older, less naturalistic, with the figure of the King rather small on his horse, which itself is an odd beast, with its smooth flanks and neck and almost primaeval look. Art historians in the main are rather damning of le Sueur, as a weaker sculptor than others of his time, but I think we can be more favourable than that. Firstly, his sculpture is something of a bridge between the Elizabethan tomb kneelers in the churches and the flamboyant Italian and French work a generation or so later. And secondly, and more importantly, the longer the acquaintance with his works, the more they grow on one.
To look at the statue of Charles I, a little bloated in the face as le Sueur's figures tend to be, stiff-faced and prideful, and then at the lugubrious horse, is to see something more characterful and human than the too-noble creations of some of his peers.
We know rather less of his life than we might: Richard Avery wrote for the Walpole Society that he was born in France some time around or before 1585, his father being Pierre le Sueur, a master armourer of Paris. He became a sculptor for the King of France, achieving some success through works which are documented, but do not seem to have survived to the present day. In 1624/25 he came to England to work as a Royal sculptor to Charles I, a patron of the arts, and it is in England where the majority of his works – still not so many – are to be found. He lived at least for a time close to St Bartholomew the Great, in St Bartholomew's Close, in the City, and spent a period in Italy, where Charles I sent him to make moulds from the great statues of antiquity: several of these survive at Windsor Castle. He made portrait statues and busts of Charles I, and other rich patrons, small statuettes, including an early series of French equestrian monarchs, which would have been designed before he left Paris, presumably, even if cast in Britain. And he made two great Royal fountains for Somerset House, of which at least some of the bronze figures survive in the Diana Fountain in Bushy Park, Hampton.
It was in fact as a bronze founder where he made his greatest impact in the country, as this was an art rare almost to extinction in England at the time. After an Italian, Francesco Fanelli, became a court sculptor, le Sueur's commissions (and fees) began to tail off, from about 1636, and it is notable that as well as being an esteemed sculptor, Fanelli too was a bronze founder. The last mention of le Sueur in England dates from 1841, and he seems to have returned to France, to work more as a bronze founder than an artist in his own right, and in 1658 is the last record of him.
As well as the Charles I statue at Trafalgar Square, le Sueur has two important monuments in Westminster Abbey, to the Duke of Richmond and Lennox (d.1624, the monument emplaced by 1628), and the Duke of Buckingham, George Villiers, d.1628. Both of these contain effigies and supplementary figures and are most magnificent. For portrait busts, the V&A among others has a bust of Charles I, and St Paul's Hammersmith has another one as part of the monument to Nicholas Crispe (see this page). The head of Charles I in a niche on the outside of the Square Tower, Portsmouth, is not the original by le Sueur, however, but a replacement of around the end of the 17th Century. We should also mention one of the City Churches, St Margaret Lothbury, wherein is a le Sueur bust of Peter le Maire (d.1631), which came from the demolished church of St Christopher le Stocks.
There are full statues of James I and Charles I in Winchester Cathedral, but to my mind le Sueur's best full figure statue outside of London is that of Sir Richard Leveson, once part of a great tomb but now simply a figure and two cherubs, to be found in St Peter Wolverhampton, north of Birmingham.
Visitors to this page since 1 May 2014: 6,192