George Anderson Lawson (1832-1904)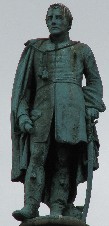 Wellington, for Liverpool, by G. A. Lawson.
The sculptor G. A. Lawson was one of the less well-known members of the New Sculpture movement. He was born in Edinburgh and trained in Glasgow (under Alexander Ritchie) and in Rome, and set up his own studio in Glasgow at the beginning of the 1860s, but after a sojourn in Liverpool, settled in London in 1866/7.
His work included a variety of portrait statues, including the Burns Memorial in Ayr, 1892 (versions also in Dublin, Melbourne and elsewhere), James Arthur in Glasgow, Joseph Pease for Darlington, John Vaughan for Middlesborough, and the hapless owl-faced statue of John Biggs in Leicester. In New Zealand is his W. S. Moorhouse in Christchurch Botanical Gardens.
Lawson produced various allegorical figure subjects, exhibited in the 1870s – 1890s, but I am not acquainted with these except for his Cleopatra, which is a noble Greek composition. Most interesting of his works are his classical friezes, including the reliefs for Glasgow City Chambers, George Square, a relief of The Arts for Aberdeen Art Gallery, and the reliefs for the Municipal Buildings, Bath. These last show his figures to be harmonious in composition, carefully understated in pose, and elegant in form and drapery. He is to be placed in the New Sculpture movement. One can only wish that more of his work was readily accessible.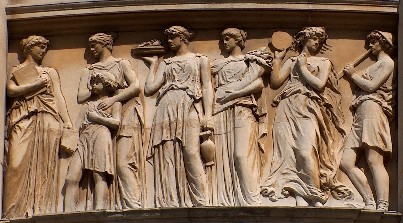 Section of frieze by Lawson.
Visitors to this page since 22 Nov 2011: 6,401