John Lawlor (ca 1820 – 1901)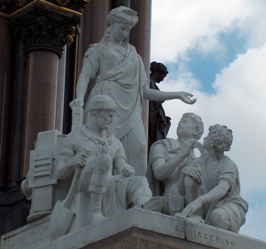 Engineering group for Albert Memorial, by Lawlor.
The Irish sculptor John Lawlor is familiar to those interested in London sculpture for his group Engineering, one of the four Industry groups from the Albert Memorial. He produced two similarly-posed allegorical girls, one semi-clothed, called Solitude, reproduced in Parian for the Art Union of London, and the other a nude, called The Bather, which was at the Great Exhibition and afterwards commissioned in marble for Queen Victoria, and is now in the Royal Collection. In Ireland are two public statues by Lawlor: Bishop Delany outside Cork Cathedral, and Patrick Sarsfield at St John's Cathedral, Limerick; apparently there were other statues by him made for Cobh Cathedral. Others of his works are various busts, including one in the V&A collection of John Jones, which I have not seen on display. Lists of his exhibited works also indicate a variety of genre and religious works, and he made a series of ideal heads for the frontage of Leyton Town Hall, though I am not aware of him having any great oeuvre of architectural sculpture.
Lawlor was born in Ireland, By 1850 he was in London, first in Wyndham Street, and later in Stanhope Street, Hampstead Road, where he was still living at the time he ceased exhibiting in the 1880s. He worked for a period for John Thomas, working on some of the various figures on the exterior of the Houses of Parliament, and though it is certainly not obvious which works may be largely due to Lawlor as opposed to Thomas, perhaps it is because of his work on this series that he was able to be a serious contender for a group on the Albert Memorial, as his personal oeuvre outside of Ireland was so small. He became ARHA (Associate of the Royal Hibernian Academy of Arts) in 1861, and exhibited there and at the Royal Academy, but although nominated as an Associate of the Royal Academy on more than one occasion, he was unsuccessful in the ballot. He died in London in 1901.
What then are we to make of his work? In Ireland, Lawlor's statue of Patrick Sarsfield has him in in a lively, perhaps over-lively, striding forward pose, gesturing his troops forward, wearing long boots and a stiff overcoat, and holding his drawn sword. The Bishop Delany portrait statue is a conventional seated bronze.
Better is his Engineering group for the Albert Memorial, which like all the groups, is carefully composed, consisting of a standing allegorical female, with three crouched working men at her feet, rather understated in musculature, pose and drapery, which neatly combines classical and modern clothing. From his figures of The Bather and Solitude, and from photos of other ideal works I have seen, a picture emerges of Lawlor's concept of the ideal: a classical-faced girl with curled hair cut short or gathered up at the back, with a full rather than slender figure.
The Bather.
Visitors to this page since 22 Nov 2011: 6,306