Countess Feodora von Gleichen (1861-1922)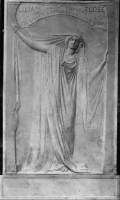 Memorial by Feodora von Gleichen.
'The serious purpose of Lady Feodora's life was the study and practice of the severe and difficult art of sculpture...' - Obituary in The Times, 1922.
The sculptress Feodora von Gleichen is most familiar from a single public statue, the beautiful Diana Fountain in Hyde Park (also known as the Artemis fountain) near the south east corner, close to Constitution Arch. This statue is noted and depicted on this page.
She studied under Alfred Legros at the Slade School, and afterwards in Rome. As a member of the nobility – a countess – related to Queen Victoria, her studio address was St James's Palace, and much of her work, which was not so prolific in total, seems to have consisted of busts and other works for the Royal Family. We may mention also a half-figure of the violinist Kubelik. She also made statuettes, some few memorials, and fountains and garden ornaments, as well as small explorations of metalwork, medals, enamel and mosaic – though I have not seen any of these latter. She also exhibited a few paintings. Hers is the Edward VII Memorial at Windsor, the Florence Nightingale Monument in Derby (in the grounds of the hospital), and the Ingestre Monument in St Mary, Staffordshire. Some of her work is abroad, including a fountain in Paris, a war memorial to the 37th Division at Monchy le Preux, France, a panel showing an almost Art Deco Queen Hatasu of Egypt, in the collection of the Art Gallery of New South Wales, Sydney, Australia, and in Canada a Queen Victoria for Victoria Hospital (1895). She also made exterior decoration for the Foundling Hospital in Cairo, Egypt.
We may note that her sister, Countess Helena, was also an artist, and her brother Lord Edward Gleichen, a Major-General, wrote a highly readable book called London's Open Air Statuary, along with various military works, including With the Camel Corps up the Nile.
Her father, Count Gleichen (Admiral Price Victor of Hohenlohe-Langenburg), was also a sculptor, moderately prolific but the only work I have seen of his is a bust in the Old Town Hall, Liverpool.
Visitors to this page since 2 Dec 2011: 4,760