Richard Garbe RA (1876-1957)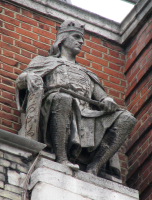 Edward I, High Holborn, by Garbe.
Richard Garbe was one of a number of prominent sculptors in the earlier part of the 20th century, whose formative years were in late Victorian and Edwardian times, and kept some sympathy with those eras in their own work. Garbe trained under his father, a craftsman in metal and ivory, and then at the Central School of Arts (where he later taught modelling and carving), and the Royal Academy Schools. He exhibited at the RA from 1908, was elected ARA in 1929, in which year he was appointed Professor of sculpture at the RCA, and became a full Academician in 1936.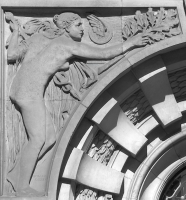 High relief carving.
Garbe's peak output was in the 1920s and 30s, and therefore typically art deco, though as often with long wavy haired girls as much as short haired ones. His earlier work is more Victorian in sympathy. As well as statues, Garbe kept his early interest in craftsmanship, and produced a variety of ivory carvings, wood, and figurines (typically standing art deco girls of an allegorical nature) for reproduction in porcelain by Doulton.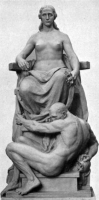 Among his architectural work, his principle groups are the Medieval Age and Modern Age for the National Museum of Wales, Cardiff, solid, blocky groups with a pyramidal composition. In London, there are three buildings with architectural sculpture by Garbe which I know of. Firstly, a building called Thames House on the northern approach to Southwark Bridge, has several groups and high relief figures by Garbe, all rather splendid. In Southampton Row, close to Holborn Station almost opposite Sicilian Avenue, is a rather good stone statue of Bunyan in a niche, dated 1903 (pictured on the Kingsway walk). Thirdly, on High Holborn, nos. 114-115, by the station, has very high up and unnoticed by most passers-by, seated statues of Edward I and Edward VII.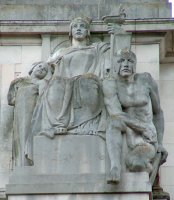 The Modern Age, Cardiff.