Joseph Durham (1814-1877)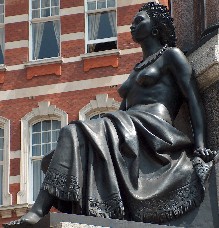 Africa, by Joseph Durham, part of the Albert group.
The sculptor Joseph Durham is chiefly notable for his Albert behind the Albert Hall in South Kensington, part of the Monument to the Great Exhibition, but in his time was a popular sculptor with a variety of public statues to his name and whose work was much reproduced.
Joseph Durham studied under John Francis, and then worked for E H Baily before setting up on his own account, and exhibited prolifically at the Royal Academy from 1835 (some 125 pieces in all, the last exhibited posthumously in 1878), being elected an Associate Acadamician in 1866.
Much of his work consisted of portrait busts and statues. These include, in London, aside from the Exhibition memorial (featured on this page), six figures for Burlington House in Piccadilly (Phidias and William of Wykeham for the front, and seated figures of Bentham, Harvey, Milton and Newton on the rear), the Leigh Hunt Memorial in Kensal Green Cemetery, and the weathered bust of Hogarth, previously in Leicester Square and promised to be returned once renovated. Outside London, we may mention busts of Brenchley and Hazlitt in Maidstone Museum, figures of George Stephenson and Euclid in the University Museum, Oxford, and Crossley for Halifax.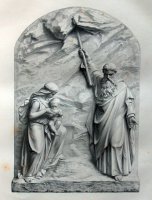 Phidias, one of the figures by Durham on Burlington House.
Durham's ideal works are, at their best, superior. Heroic, Greek-style figures of Alastor and Hermione are in the Mansion House, and versions of a spirited Girl at the Spring, shading her eyes, are in Blackburn Town Hall, by Gloucester Gate outside Regents Park in London (as part of a fountain), and elsewhere. Various of his statues showing children tended to the sentimental. Some of his work was reproduced in Parian porcelain, for example a version of Jenny Lind of which a copy is in Preston. Most accessible of his ideal works are the four excellent allegorical figures of the Continents for the Albert statue, including a turbaned Asia with a banana leaf, a proud Africa wearing a carpet-like garment, a more chaste America with axe, bow and a crown of stars, and Europe with sword wrapped in olive leaves, and wearing a castellated crown.
We should also mention his drinking fountains, of which he sculpted several apart from the Gloucester Gate one noted above, including one with a plaque of Moses striking the Rock, and figures for a colossal Gothic one, no longer extant, in Guildhall Yard.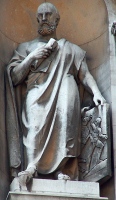 Phidias, one of the figures by Durham on Burlington House.
Great Exhibition Memorial // Great Exhibition Memorial in the Snow