John Broad (known from 1873, d.1919)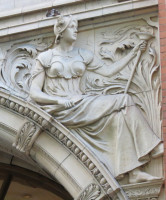 Allegorical figure of Day by John Broad.
John Broad was one of the sculptors in terra cotta working for Doulton of Lambeth. He is a rather obscure figure, and I am not aware of a good source on him. He first appears in 1873 in the sculptural Department of Doulton's, was noted in 1881 as the sculptor of panels and statues for St Bede's College in Manchester, contributed to the Doulton Fountain shown at the Glasgow International Exhibition in 1888, and seems to have been most successful in the decade or so from 1890 to just past the turn of the century, when he produced the majority of his known works, and also sent several pieces to the Royal Academy exhibitions. At that time, he was living in Wandsworth, south London. I have come across references to him in the contemporary literature up to about 1909, but he seems then to have dropped back into obscurity. He apparently died in 1919.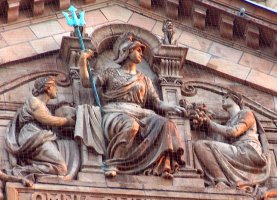 Central figure for Harrods.
His largest work, I would think, is the grand pediment to Harrods in Knightsbridge, a great thing of terra cotta with almost free-standing figures, and being in such a hard, resistant material, they look as crisp as if newly made. The best figure is the central seated Britannia, shown above - - see the pediments page for a picture of the whole work. This statue shows an assurance in the decorative folds of the drapes, in sweeping curves from one knee round the ankle of the other, and curving up behind that leg to encircle the thigh. The other figures are not of this standard, and although of grand enough size to be seen clearly from below, without much detail which would not be seen, show no particular consideration that the viewer must be at rather an oblique angle, so that taking some visual aid, it is hard not to be looking at the foreshortened, thus fattened necks and chins of some of the figures, which could have been easily avoided had the heads been downward turned. Nevertheless, fine decorative work, especially the cornucopias and central festoon of fruit and flowers.
Standing female figures by John Broad: Euterpe, Queen Victoria, garden figure.
Broad made a variety of statues of standing figures, mostly allegorical females for garden decoration, which at their best are extremely competently done, with drapery after the Greek manner or with Durer-like folds and some nobility of treatment. He favoured a fairly athletic female figure, wide in the hip, muscular in the arm, but with delicacy and elegant fingers to the hands. He preferred shorter or piled up hair to long tresses. His faces tend to be fairly blank of expression rather than with the deep calm of ancient Greek visages, and this may reflect the nature of the terra cotta process with which he worked. An opportunity to see one of these figures close up, rather than the distant view we have of his Harrods work, is in St George's Gardens, Bloomsbury, where stands a surviving figure of Euterpe from a demolished tavern in Tottenham Court Road – unusually for Broad, this figure has long wavy hair.
Other notable work by Broad includes terra cotta statues of Queen Victoria in Newbury, Berkshire; another Victoria and a statue of General Gordon in Gravesend; two of the figures, including the Queen, for the Doulton Fountain noted above, now in Glasgow Green; a panel for the Reredos of St Ann's Church, in Wandsworth where he lived, dating from 1896, which is roughly to the design of Leonardo's Last Supper fresco; two spandrel girls in relief and minor decorative work for the former Great Central Hotel, 222 Marylebone Road. In London he also made a statue of Queen Victoria for the Albert Embankment, but this has long since disappeared. A pair of figure panels depicting a Japanese man and woman at 31 Lime Street, by Leadenhall Market, is attributed to Broad, and the building is certainly clad in Doulton ware, but I am not clear on the basis for the attribution.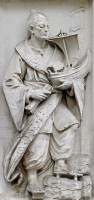 Japanese figure by John Broad.
Doulton already sent much of its work abroad, and Broad's architectural sculpture includes at least some figures for India and, I think, Singapore ('the Straits Settlements'), however I have no further details on what buildings these decorated and whether they survive.