Chiswick Churchyard and Old Cemetery Monuments
Behind St Nicholas Church in Chiswick is the large churchyard, extended to what is now called the Chiswick Old Cemetery. Among the famous personages buried there are several prominent artists, including Hogarth, and an interesting mix of carved tombstones: many are signed by the monumental masons who made them, and the collection is particularly rich in headstones based on the cross.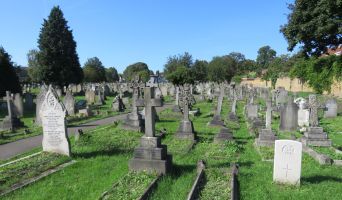 Among the tombs can be seen:
William Hogarth, d.1764; the monument was erected after the death of his sister Anne in 1771; the famous painter's house is nearby. The piece is in stages: the base with curvy corner pilasters; a squat chest on top with carved crossed branches etc; and then a tapering fluted base to a flaming urn with the remains of a wreath around it. The accompanying notice says that the inset panels would once have been painted in bright colours, which I find surprising.

Hogarth's tomb, Chiswick Churchyard.

Charles Holland, d.1769, a prominent actor, with an inscription by Garrick: bulky tomb chest with a lid, on a plinth.

Philip James de Loutherbourgh RA,d.1812, landscape painter, and his wife Lucy de Loutherbourg, d.1821, – this tomb, a tall blocky affair with squared pillars, and a top with curvy pediments, was designed by John Soane: the metal grill around the tomb, with its flaming urns at the corners, is archetypically Soanian.

P. de Loutherbourgh, and Ugo Foscolo tombs.

Ugo Foscolo, d.1827 – a significant Italian poet, writer and revolutionary, who lived the last 11 years of his life in London. The sculptor Marochetti designed the monument, a massive granite chest tomb surrounded by a fence, which is however an architectural rather than sculptural piece.

James McNeill Whistler, d.1903, and his wife Beatrix, d.1896. A large tomb chest close to the wall of the churchyard or cemetery, with Ionic pilasters and four free-standing female figures at the corners, quite small, and an entablature with repeating reliefs in low relief, all in greeny bronze or copper. A plaque notes that the figures are copies cast in resin, replacing stolen originals. As we see them today, they are Classical, dressed in full length robes caught high at the waist, and with long sleeves; their hair and faces are of the turn of the 19th Century rather than particularly Classical. Edward William Godward was the sculptor according to the Conway gallery.

James McNeill Whistler's tomb.

Frederick Hitch VC, d.1913, a bulky memorial to commemorate his herioc action at Rorke's Drift in 1879. We see a large lump of partially carved granite, the inscription inset, a bronze helmet on top, with a carved drape of the Union Jack under it, and bronze foliage and wreath at one end, along with the VC in stone.

Frederick Hitch VC, d.1913, and the tomb of W.B. Richmond, d.1921.

Clara Richmond, d.1915, and William Blake Richmond, d.1921, the painter and sculptor. He made several carved church monuments, including the Gladstone Memorial in Hawarden Church, with two reclining figures watched over by an angel, with further carved figures around the base. The monument to Richmond is a tall panel with pediment and acroteria,and has carved figures on both sides. On the better-preserved Clara side, we see a standing female figure, draped and cowled, her had held by a kneeing female in loose Classical garb. The standing figure's spare hand holds a heart on a staff, with a pair of doves in low relief flying near it, and he word 'Caritas' (i.e. Love) above. On the other side is a single female figure, quite martial, in profile, standing perhaps in a chariot, holding the reins of some unseen horse. Nice swirly lines to the drapery, quite dreamy and Art Nouveau. The word 'Spes' is near the top, which is 'Hope' - see picture at top of page.

Sir Percy Harris, Baronet, d.1952, a Liberal politician, with an interesting 1920s carving of the Resurrection of the Dead by the sculptor Edward Bainbridge Copnall, owned by Harris and emplaced here on his tomb - picture above. A busy composition of around a dozen naked figures (i.e.souls) with a variety of coffins, crosses and headstones, and an oversized winged figure at the top.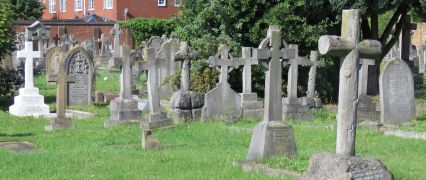 Also notable are the following:
Near the Ugo Foscolo tomb noted above is a wall with some panel monuments which should have been kept indoors: one is a well-proportioned obelisk monument to Edward Crispe, d.1739, with a cartouche of arms (see picture at top of page); the remnants of several smaller panels also remain, including an intriguing top to one panel consisting of a mushroom-like central protruberance.

Many of the tombs, especially the larger ones, retain the visible names of the stonemason or company which produced them, and we see a variety by Lamb & Hewett of Brentford (2nd picture from right below is an example of their work), H. Paul of Ealing, Maile & Son of 367 Euston Rd, and W. Tomes of The Grove, Ham, SW, among others.

Cross monuments: There are a greater than usual variety of headstones based on a cross; a small sample are shown below. If you are intrigued by the variety of different types of cross on churchyard monuments, see this page.
Sample of monuments with different types of crosses in Chiswick Old Cemetery.
Back to main page on monuments inside Chiswick Church.
Introduction to churchyard and cemetery monuments // Monuments in another Middlesex Churchyard, at Harrow