Cuthbert Brodrick (1821-1905)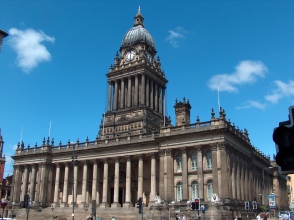 Leeds Town Hall, Brodrick's magnum opus.
The Victorian architect Cuthbert Brodrick is known for several major buildings in Leeds and across Yorkshire."
Cuthbert Brodrick was only a little over 30 when he won the competition for Leeds Town Hall, and not particularly well known outside his native Hull. He had trained in his native city under a local architect called H. F. Lockwood, and then spent a couple of years abroad studying ancient and modern buildings, being particularly influenced by what he had seen in Paris.
Leeds Town Hall, built from 1852-58, is a enormous edifice with a grand line of Corinthian pillars in front, pilasters and more pillars all the rest of the way round the building, and a great central clock tower – square in cross section with a onion shaped roof, indicative of Brodrick's French predilections, and many pots on the balustrade giving a spiky silhouette against the sky from almost any angle.
Brodrick went on to design two further important buildings in Leeds. The Corn Exchange (1860-62) is a great oval building, unusual at the time, somewhat inspired by the Pantheon and Colosseum. Its size is impressive – 190 ft long, almost 140 ft wide, and with a height from basement to top of the ribbed dome of over 80 ft - it is this ribbed dome which forms the background picture for this page. Like the great greenhouses at Kew, its use of repeating identical elements gives a harmonious and satisfying whole.
Brodrick's third major building in Leeds was the Mechanics Institute in Cookridge Street, built between 1865-68, which now houses the Leeds City Museum.
There are other works by Brodrick in Leeds, including minor work just up Cookridge Street along from the Museum, at nos. 49-51. Other work by him is in his native Hull, notably the Town Hall, completed in 1866 and thus a little later than the Leeds Town Hall, smaller of course, but nevertheless an impressively solid classical building, again with a central clock tower, though relatively tall and thin rather than massive, as at Leeds. His other works are mostly across the eastern part of Yorkshire, most notably the Grand Hotel at the seaside town of Scarborough, completed in 1867. Indeed, with the completion of his major buildings in the 1860s, his remaining career was not so long, and he retired from architecture to France aged about 50, ending up in St Germain en Laye in about 1876.
Brodrick's works are impressive, but he did not particularly design his buildings to be adorned with statues or figural architectural sculpture. The Leeds Town Hall has a tympanum by John Thomas, behind the pillars in the front entrance, so not noticeable from a distance, the Mechanics Institute has a bust surrounded by accoutrements, but that is about it. His interiors were more decorated.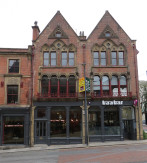 59-61 Cookridge Street, Leeds, minor work by Brodrick.